Thanks for attending the Everglades Awareness Concert!
This year's celebration for the Everglades was very positive and powerful platform for community interaction and I am so happy that we made it happen together! I would like to thank all of the people who came out and participated in the 9th Annual Everglades Awareness Benefit Concert - it was a beautiful day (even with the brief rain) with some many nice people connecting to each other.
BIG THANKS to all of the musicians, poets, painters, dancers, speakers, vendors volunteers and organizations who came together and put forth their efforts to support the Everglades!
BIG THANKS to Adam Gersten and the staff at Gramps for hosting the 9th Annual Everglades Awareness Benefit Concert - you guys rock!
Special Thanks to 7th Circuit Productions and Resurrection Drums for the production support and gear - we appreciate the community participation!
Special Thanks to Progressive Rags, Gator in the Bay and the Ploppy Palace Productions crew for the print, video, photography and graphics to enhance the event with some conscious branding and outreach tools - you guys create the images that people remember!
BIG MEDIA BLAST THANKS to WLRN, WDNA, Shake 108, the Miami New Times, the Miami Herald and all of the online outlets that helped to spread the word about the event and the Everglades - this is how we build awareness through South Florida and beyond!
Special Thanks to Mut Communications and KPW Media for the outreach and networking on behalf of the event - it is always good to work with people who care about the issues.
SUPER HUGE THANKS to our sponsors the Miccosukee Tribe of Indians of Florida, Lemus Natural Medicine, VolunteerCleanup.org, Progress For All and our GoFundMe donors who helped to finance this project - your contributions made a HUGE DIFFERENCE in how we can produce the event with such positive results!
MOST OF ALL A HUGE SUPER SPARKLY SHINY THANKS to Love The Everglades Movement who were instrumental in putting this event together and got involved in so many ways - this is such a hardworking, creative and sincere team of activists who care about the Everglades - I am honored to work with this unique team!!
Together all of these people came together to support South Florida's distinctive eco-systems and protect our natural resources - good interactive fun as we connect to make a difference! Be sure to stay tuned because we have much more planned to help the Everglades and strengthen our community!
Houston Cypress on Love The Everglades Movement
Everglades Awareness Concert's promo video
Ploppy Palace & Love The Everglades Movement present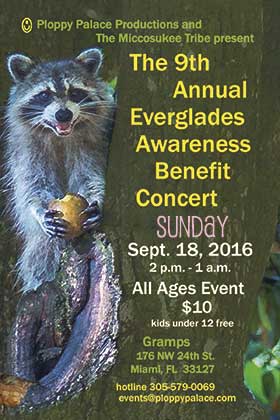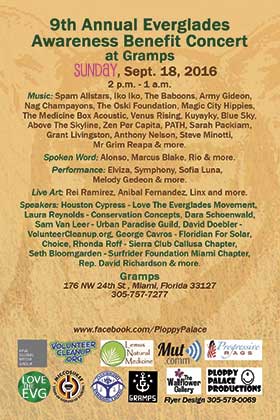 click flyer image to enlarge
2016 Benefit - Sponsors

7th Annual Everglades Awareness Benefit Photographs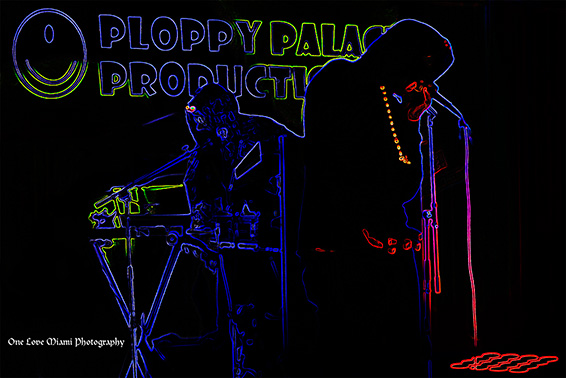 See 177 photographs (images by One Love Miami Photography) of the 7th Annual Everglades Awareness Benefit in May, 2014 at 7th Circuit Productions!
Flash recommends visiting the following website: