Advance tickets only $10!
The Annual Medical Marijuana Benefit needs your help!
We are working to change the medical marijuana laws in Florida - this is a group project & this event is a platform for people to demonstrate some solidarity.

At the moment, we are working to secure a large lot for parking. We are also in the process of looking for a national headliner to increase the media coverage and audience response!

Things are happening, so get involved! Please donate - it does make a difference! Thanks!
Flash - Funk Finder, Ploppy Palace Productions
305-579-0069  
Ploppy Palace Productions Facebook Page
Ploppy Palace Productions & NORML of Florida present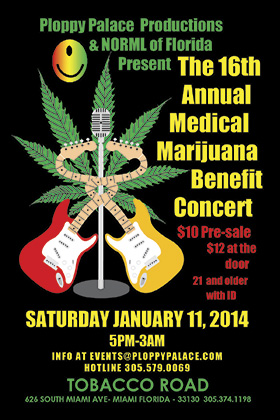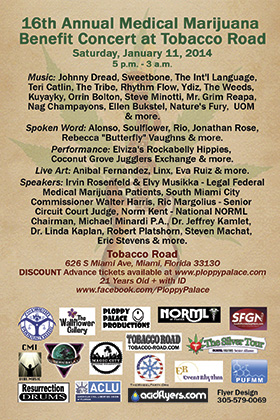 click image to enlarge
Donate Here
NORML of Florida set up the following site so that you could donate some money to the cause and to help put on the benefit. Your financial support does make an important difference. Together we can do this.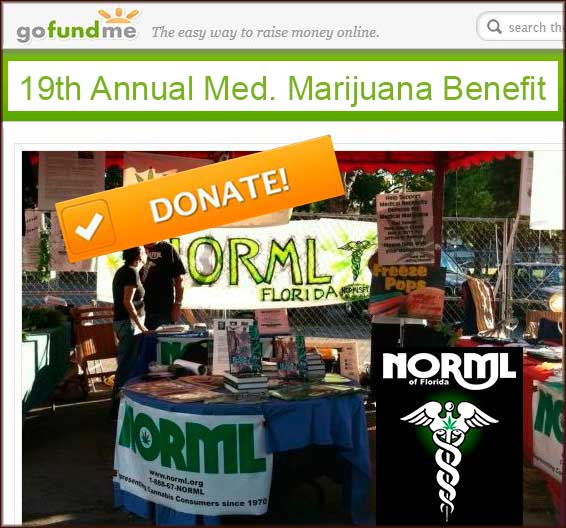 Cannabis Laws by State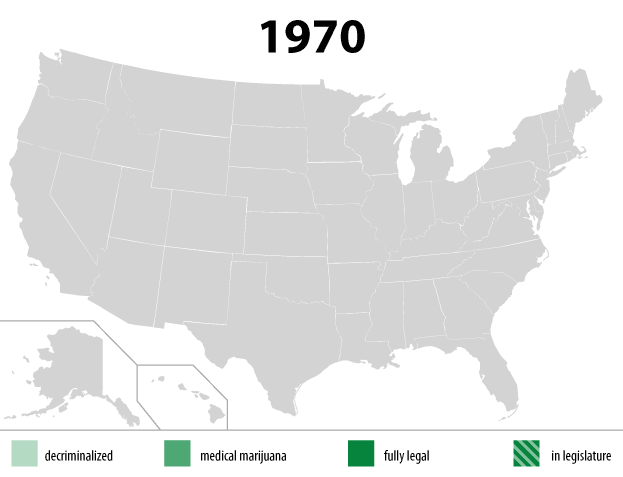 2014 Benefit - Sponsors
Please check out our sponsors by clicking their logo below:

A Special Thanks to Everyone for last year's effort!
Thank you for participating in the 15th Annual Medical Marijuana Benefit Concert! This year has been about bringing people together.
The Medical Marijuana Benefit Concert Series is a platform that provides a focal point for activism and solidarity. By having a project that allows people to work together and share resources, we strengthen our collective network and hone our individual skills. The event itself is a wonderful showcase of talent and creative expression that also works to provide an audience for a diverse mix of speakers and information.
Things are happening in Florida and the medical marijuana movement is being recognized. We have a legitimate issue that is progressively being addressed in the Florida Legislature as well as in our local municipalities. Yet it requires individuals and organizations to step up and get involved in the process. We need more people to be vocal and to educate others. This is how we make a difference.
Right now there is legislation in motion in Florida. We need to support those people who have sponsored the bill, as well as encourage other elected officials to support it. Currently there are 18 states, plus Washington D.C., that have approved medical marijuana. It is time that Florida join that list.
Special thanks goes to the Board of Directors and Members of NORML of Florida, especially Karen Goldstein. BIG THANKS goes to Tobacco Road for their support. A special thanks to all of the sponsors who have contributed to this event. Also a BIG THANKS to the Ploppy Palace Production Crew and all of the volunteers who helped to make this come together
Thank you for your effort.
Flash
Funk Finder, Ploppy Palace Productions
305-579-0069
Some Highlights of the 14th Annual Benefit
Here is a video with some highlights of the 14th Annual Medical Marijuana Benefit Concert - it has some great excerpts of music, speakers and performances. You can catch some of the cool energy at the event as well. Linx did a great job with the recording and the editing! Share the video, so other people see it. This is a primer for the upcoming 15th Annual Medical Marijuana Benefit Concert at Tobacco Road on Saturday, March 2! Spread the word!
Contact Linx at his Facebook page.
Flash recommends visiting the following websites: